If you are like me then you have spent most of your life searching for balance. And by balance, I mean maintaining your svelte physique while answering the undeniable call of late-night munchies. Well, look no further, friends. we've gathered up four light-on-the-guilt, heavy-on-the-delicious recipes that prove you really can have it all.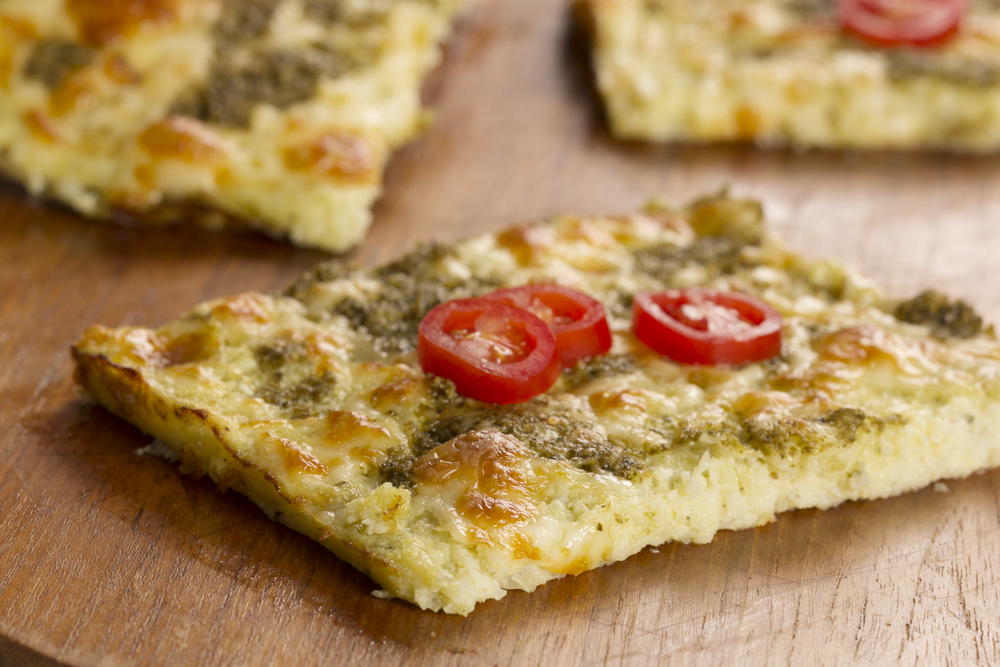 CAULIFLOWER VEGGIE FLATBREAD
TRY THIS WHEN YOU'RE CRAVING FOR PIZZA!
GET CREATIVE WITH SPICES LIKE OREGANO AND DRIED CHILI FLAKE OR TOP WITH FRESHLY TORN BASIL TO MAKE IT YOUR OWN.
Ingredients
1 frozen cauliflower pizza crust (I love Trader Joe's brand)
1 cup pesto (TJ's Vegan Kale, Cashew & Basil Pesto is a great option)
1 cup shredded mozzarella cheese 
1 ½ cups sliced veggies (try mushrooms, zucchini, bell peppers and onions)
Directions
Bake each side of the cauliflower crust for 10-12 minutes at 450° F until crispy.
Crank up the heat while you spread pesto evenly onto baked crust and add toppings.  
Broil pizza for 4-5 minutes or until cheese begins to bubble.
Lastly, eat while watching the Food Network so you can marvel at your very own gourmet creation.
---
BAKED ZUCCHINI AND SWEET POTATO WEDGES
TRY THIS WHEN YOU'RE CRAVING FOR FRENCH FRIES!
ENJOY SATISFYING CRUNCH AND SNACKABLE FLAVOR WITHOUT THE HEAVINESS OF DEEP-FRYING.
Ingredients
1 sweet potato
Coconut oil spray (olive oil or avocado oil also work)
1 tsp cinnamon
2 medium zucchinis
2 eggs
1/2 cup each of Panko bread crumbs and grated Parmesan
1/4 tsp each of salt, pepper, chili powder and garlic powder
Directions
Preheat oven to 400° F and line a large baking sheet with parchment paper.
Cut zucchini and sweet potato into half-inch wedges.
Coat sweet potato wedges with coconut spray and toss with cinnamon. Spread the wedges out in a single layer on one half of the baking sheet.
In a medium bowl, mix Panko crumbs, Parmesan cheese and remaining spices until well-combined.
In a small bowl, lightly beat 2 eggs.
Dip zucchini wedges in egg mixture, then dredge in the bread crumb mixture. Arrange wedges in a single layer on the other half of the baking sheet.
Spray the tops of the zucchini wedges with cooking spray.
Bake for 20-25 minutes.
These are best enjoyed with Netflix and a friend.
---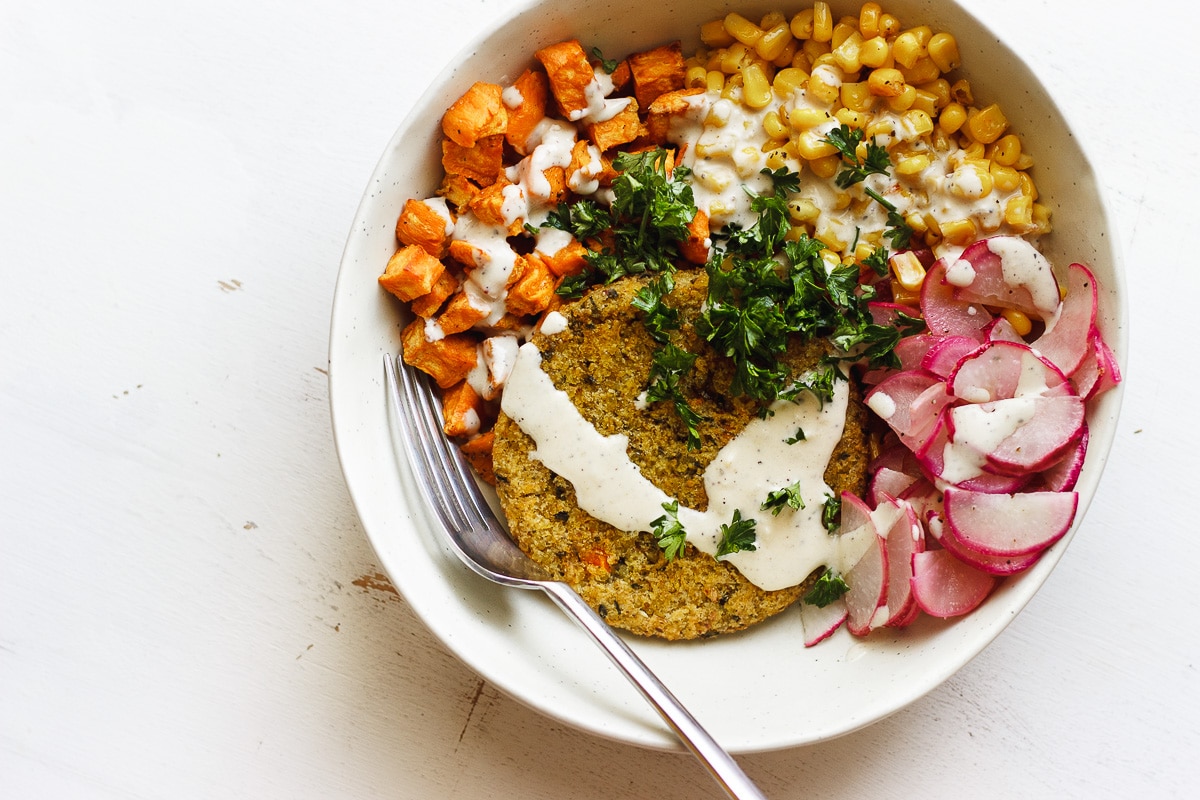 DECONSTRUCTED VEGGIE BURGER PLATE
TRY THIS WHEN YOU'RE CRAVING FOR BURGER!
THIS IS THE EASIEST RECIPE OF ALL TIME. IN FACT, IT'S LESS OF A RECIPE AND MORE OF A PLATE MAP.
Ingredients
1 Dr. Praeger's Veggie Burger patty (the mushroom risotto is my go-to)
1 egg
1/3 cup cooked black beans
1 cup brown rice (Trader Joes has great microwave pouch options to keep it easy)
1/2 avocado, sliced
Directions
Cook brown rice according to package instructions.
Pan fry the veggie patty and the egg (over medium in a non-stick pan or with a touch of oil in a regular pan).
Arrange rice and veggie burger on plate and top with sliced avocado.
This is best eaten after snapping an Instagram photo to show all your friends your superior health habits. #healthiswealth
---
PEANUT BUTTER-CHOCOLATE-BANANA "NICE CREAM" 
TRY THIS WHEN YOU'RE CRAVING FOR CHOCOLATE ICE CREAM!
JUST THREE INGREDIENTS AWAY FROM GUILTLESS BLISS.
Ingredients
2 medium bananas, cut in half and frozen
1/4 cup peanut butter
1/3 cup dark chocolate chips
Directions
Preheat oven to 400° F and line a large baking sheet with parchment paper.
Blend frozen banana and peanut butter until smooth.
Mix in chocolate chips with spatula.
Enjoy immediately and bask in the pleasure of a frosty non-dairy splurge.